Edible insects recipes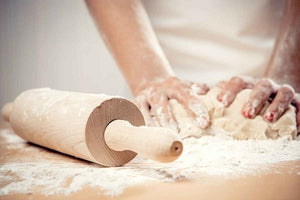 It's fine that insects are edible, it's fine that they are a sustainable source of protein, it's all fine, but let's get down to the specifics: how can we cook them?
Today we will give you some ideas on how to introduce insect flour into a couple of classic recipes. Some people will get angry, Italians will say "that's not a piadina!", U.S. citizens will sing in chorus: "I'm not eating those weird pancakes!". Let them scream, but if they do feel like trying it, they will discover that the taste will not have changed much compared to the classic versions.
The nutritional values will have changed though: more proteins, more polyunsaturated fatty acids (the ones that are good for you) and more vitamins and minerals. The recipe's carbon footprint will also change: less environmental impact with the same calorie intake, less CO2 emissions, less soil involved in the process and fewer water resources used.

Small preface: we use insect flour; therefore here below you'll find recipes where the traditional cereal flour will be added to an insect percentage. In order to obtain the consistency we are used to for those recipes, we suggest adding between 10% and 20% insect flour to the total weight of flour. If you want you can push even beyond this threshold, say, for a more proteinic result, it will be just a little more consistent to chew, that's all.
Let's begin.

Piadina "romagnola"

Ingredients:

- 200 g of flour (00-0-integral, choose the one you prefer)
- 40 g of tenebrio molitor flour
- about half a glass of lukewarm water (100 ml)
- a couple of tablespoons of extra virgin olive oil
- salt to taste

Put the flours, salt and oil in a bowl; start mixing the dough and, gradually, add the warm water.
Work the dough just enough to eliminate lumps and to get a smooth dough. Let everything rest in the bowl for a few minutes and then prepare some dough balls.
Roll out the balls with a rolling pin and place the freshly made piadina on a non-stick pan.
You can fill it as you wish, the classic arugula and squacquerone is always a hit.


Breakfast pancakes

Ingredients:

- 200 g of whole milk
- 100 g of 00 flour
- 25 g of cricket flour
- 25 g of butter
- 2 eggs
- 20 g of sugar
- 6 g baking powder for cakes

Start by melting the butter over low heat and separating the egg whites from the yolks.
Pour the yolks, butter (which we have cooled!) and, slowly, the milk into a bowl; while using a whisk, whisk the mixture until it is uniform.
In another container combine yeast and flour, mix them together, and then add them to the mixture of milk, butter and eggs that we have just done stirring with our faithful whisk ( Note- to avoid lumps it would be advisable to add the flour using a sieve).
Add the sugar to the egg whites a little at a time and whip them until stiff with an electric whisk. Once they become white and frothy combine them with the rest, be careful to mix with gentle circular motions from top to bottom, the air incorporated by doing so will remain in the mixture.
Move to the stove! Non-stick pan, little butter over medium heat.
Pour the portion of mixture you want into the center of the pan, no need to spread it out. When bubbles begin to appear on the surface and the base is golden brown, turn it over and let it brown and the pancake is ready.

Almost any dough recipe can be imagined and reimagined with insects.
Fresh pasta, breads, desserts...just give it a try. In the meantime though, grab a bottle of maple syrup for those pancakes and be careful not to eat too many.