New! Delicious corn crackers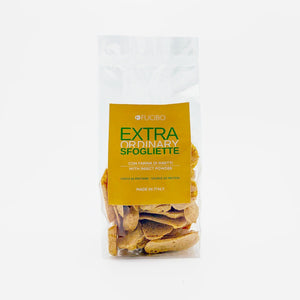 Fucibo's Sfogliette are corn crackers with insect flour, a product that perfectly meets the idea of a modern, healthy, sustainable and protein-rich (12%) diet.
These delicious thin, crunchy and light crackers are excellent to combine with cheeses and cured meats, sauces of all kinds, delicious chocolate creams and fruit jams but they are also excellent on their own, as a snack and during an aperitif.
100% italian corn.
Oven cooked.
Produced in Italy with EU-authorized insects flours and no use of preservatives, dyes or yeasts.