A new Tiramisù recipe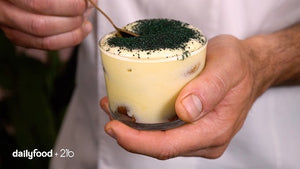 Tiramisù is perhaps the most classic and famous Italian dessert.
According to tradition, it was invented in Treviso in 1970.
It's easy to prepare, but you need to take great care in each step, especially when preparing the cream.
This recipe uses savoiardi biscuits prepared with mealworm flour (you can find the recipe here).
Ingredients:
500 gr mascarpone cheese
3 eggs
100 gr sugar
Mealworm savoiardi biscuits
Coffee
Spirulina powder.
Directions:
beat the egg whites and half of the sugar to stiff peaks, then add them to the mascarpone cheese that you have previously mixed with the yolks and the other half of the sugar.
Dip the savoiardi biscuits into the coffee and arrange them in layers with the mascarpone cream.
Dust with spirulina powder instead of cocoa for a finishing touch.
It's not difficult, is it? And the result is fantastic!