21bites-branded products available!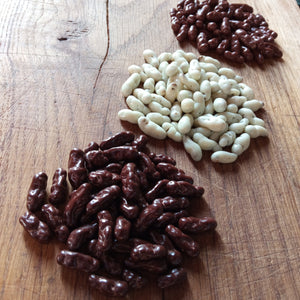 We are happy.
The first three 21bites-branded products are available!

It is an important milestone, a new phase of the path started many years ago that has led us to select the best in the field of edible insect-based products to offer the consumer a referenced multi-brand shop, also in terms of service and customer-care.
These first 3 products concretize our desire to "put our face on the cover", in this specific case to put a brand -ours- that guarantees quality, attention to raw materials and love for food that characterizes us.
The idea that we have in mind is very simple: choose some specialties of each european country and add insects in some way (whole or as flour), mix tradition and innovation to invent new and surprising products.

We decided to start with something alluring, we admit it, something that winks at the gluttony and that knows how to make itself irresistible: delicious pralines of fine belgian chocolate filled with a crunchy toasted cricket. If you like, you can also see it in reverse: a crunchy toasted cricket covered with fine belgian chocolate.

And that's not all, because we have also decided to offer you the choice between a white, dark or milk chocolate coating ... just so as not to leave you an excuse not to try them.
C'mon! You're just a click away from innovation!