New: Bear Grylls' bars!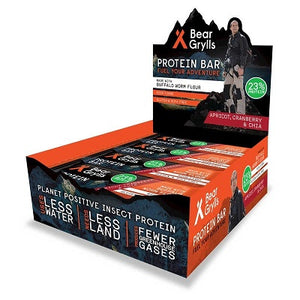 Bear Grylls has become known worldwide as one of the most recognised faces of survival and outdoor adventure.
His journey started as a young boy on the Isle of Wight, where his late father taught him to climb and sail.
Trained from a young age in martial arts, Grylls went on to spend three years as a soldier in the British Special Forces, as part of 21 SAS Regiment. It was here that he perfected many of the survival skills that his fans all over the world enjoy, as he pits himself against the worst of Mother Nature.
Despite a free fall parachuting accident in Africa, where he broke his back in three places and endured many months in and out of military rehabilitation, Grylls recovered and went on to become one of the youngest climbers ever to reach the summit of Mount Everest.
He then went on to star in seven seasons of the Discovery Channel's Emmy Award nominated "Man vs. Wild" TV series, which became one of the most watched shows on the planet, reaching an estimated 1.2 billion viewers.
Since then he has gone on to host more extreme adventure TV shows across more global networks than anyone else in the world, including five seasons of the BAFTA award-winning The Island with Bear Grylls and the US hit TV show Running Wild. Running Wild has featured Bear taking some of the world's best known stars on incredible adventures. These include President Obama, Julia Roberts, Roger Federer, Will Ferrell, Zac Efron, Channing Tatum, Kate Winslet, to name but a few.
His autobiography Mud Sweat and Tears spent 15 weeks at Number 1 in the Sunday Times Bestseller list and he has written over 85 books, selling in excess of 15 million copies worldwide.
His recent partnership with the company Tobar, has allowed to launch a new and incredible product, and we at 21bites could not miss it!
The Bear Grylls' bars contain buffalo flour worms (bred in Europe), they are rich in proteins, fibers, gluten-free and without artificial ingredients... perfect to be consumed during the excursions or after an intense effort.
So what are you waiting for? Adventure is calling!