New! Fucibo chips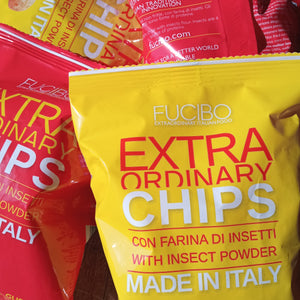 We are proud to announce that from today you will find Fucibo's chips exclusively on our Shop!
Yes, you got it right: for a short time you won't find them anywhere else. So, to try them out you have no choice but to click here.
It is really worth it. Believe us, we tasted tons of others.
The guys from Fucibo made them in Italy with love and care, the best raw materials and insects flour authorized by the European Community.
Not fried, no palm oil, preservatives or dyes, these chips are a source of protein, healthy and sustainable.
You can have them in two falvors: pizza and cheese...great classics!