NEW! Moringa and Baobab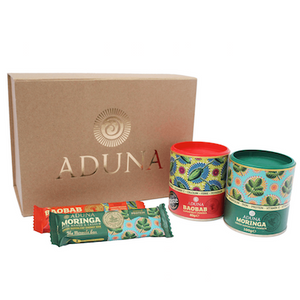 Moringa
When it comes to moringa benefits, there are almost too many to count! Native to Africa and Asia, the Moringa Tree, or Moringa Oleifera to use its scientific name, is one of the most nutrient-rich plants in the world.
It gives multiple benefits: tiredness reduction, skin care, immunity booster, muscle growth, anti stress, energy release, digestion facilitator, anti diabetic and many more!
Baobab
Baobab is the fruit of Africa's 'Tree of Life'. It is the only fruit in the world that dries naturally on the branch. Baking in the sun for 6 months, baobab's green, prickly, velvet-like coating transforms into a smooth, brown, coconut-like shell.
Inside it's hard casing is the dry white-ish pulp of the fruit which contains no moisture whatsoever.
It gives multiple benefits: strengthen immune system, slow energy release, slow sugar release, boosted iron absorption, better digestive health, antioxidant and many more!
Aduna is the supplier we trust! Find their products in our Collection!