NEW: Sens' bars on our Collection!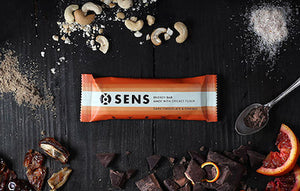 Sens had one goal in mind with its bars: to show how tasty insects can be!
You will be amazed how freakishly delicious they are. With cricket flour and psyllium husks, they turned a regular energy bar into a balanced and satiating snack for your busy day.
But what makes a bar the best possible protein bar?
At least 20g of high-quality protein, low carbohydrate content, and pure ingredients only. Sens made it, and it's awesome, full of nutritious cricket flour and real flavour of premium ingredients.
PS: If you're looking for sweets, buy a Kit Kat!
We're happy to have Sens' products in our Collection!