New: incredible seaweed!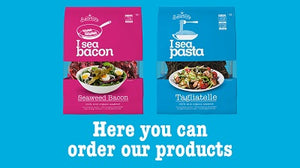 Are you a sportperson? Maybe you love fitness, running, jogging, bodybuilding or scubadiving.
Are you a foodlover, a foodie or a person looking for an healthy and intelligent lifestyle and diet?
Anyway, you'll really love this new product in our Collection: seaweed pasta!
Watch out, it's not pasta with seaweed flour, it's seaweed to be used as pasta! Is this incredible, healthy, sustainable enough for you?
If not, we've got more.
What about this other new product: seaweed bacon taste! It's great!
Almost unbeliveble that a seaweed tastes like bacon.
No added flavour, that's the natural taste when cooked.
Probably you're thinking this is a joke. You are just a clic away to discever we told the truth.