Fettuccine with insects flour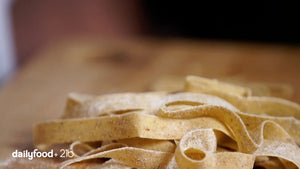 This time we try to increase a little bit the difficulty of the recipe, but the objective is always to obtain a fancy dish with the use of insects and also of spirulina. And homemade pasta, of course.
Today we prepare fettuccine with buffalo worm flour cooked with fruity curry grasshoppers and onion cream with spirulina.
The list of ingredients is not long: 1 egg, 50gr 0 flour, 30gr regrinded wheat semola, 20gr buffalo worm flour, 1 onion, 4 fruit curry grasshoppers, 50gr butter, a teaspoon of spirulina, salt as needed.
Method: knead the flours with egg to a smooth dough, then let it sit.
In the meantime, stew the onion in a pan with half the butter, add salt and blend it with the spirulina until you obtain a smooth cream.
Roll out the dough and cut it into fettuccine; cook them in boiling water and then whisk the pasta in a pan where you've previously browned the diced grasshoppers and the remaining butter.
Arrange the fettuccine on a plate with some sauce.
Quite simple, right? And the result is fantastic! You must try this at home.
Of course, you can change the recipe as you like, for example you could use different insect-based flours or other seasoned bugs.
All the ingredients are available in our shop